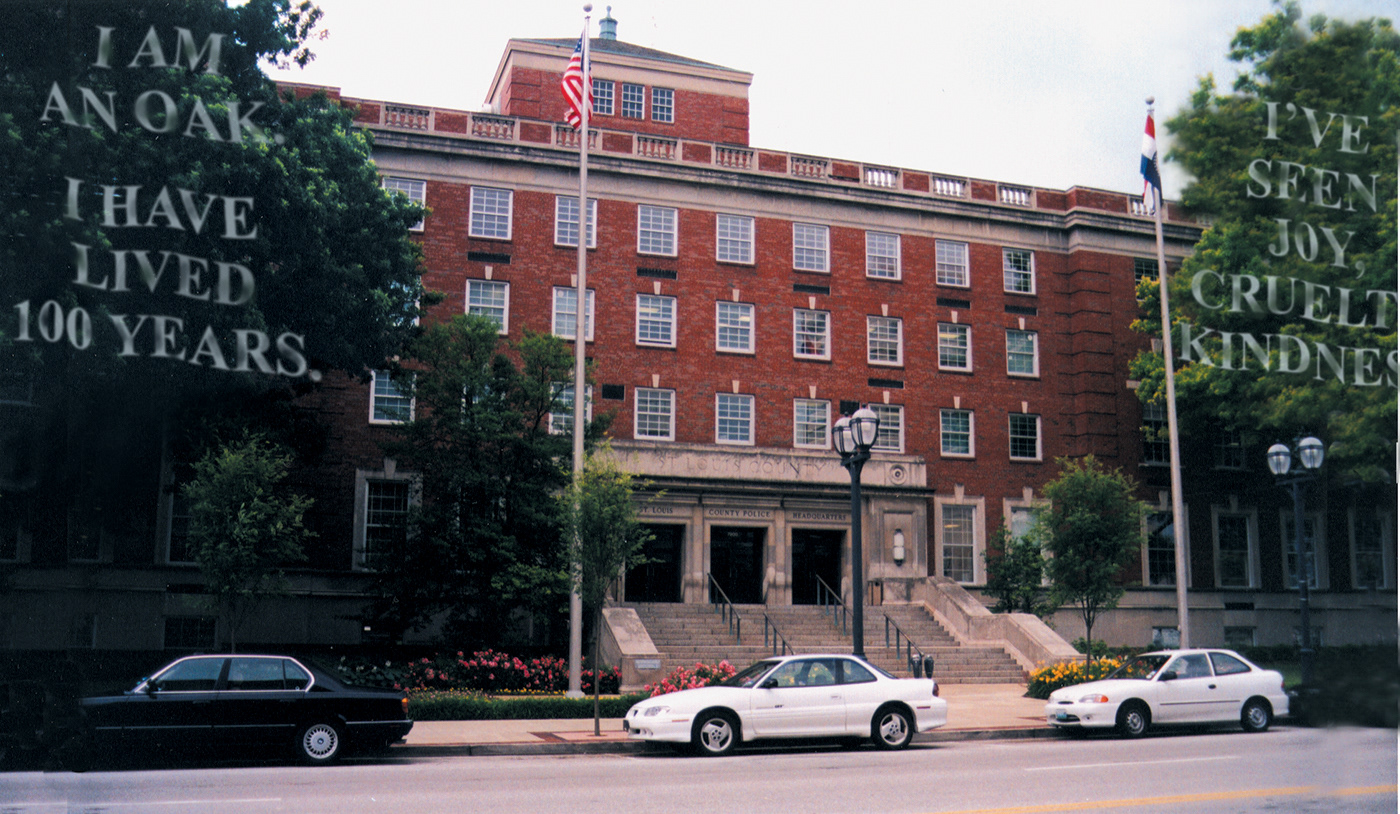 I Am an Oak
© Stuart Williams
2002. All rights reserved.
Police Headquarters, St. Louis, Missouri
COMMISSIONED PROPOSAL



100 Years of Memories:

Luminous lines of poetry scroll slowly up the lush foliage of two enormous 100 year old oak trees. The stately oaks frame the entrance of an historic architectural facade, which is the St. Louis County Police Headquarters. The commanding presence of the two oaks, as a kind of gateway to an historic landmark building, suggests timelessness and a sense of history. As if the great oaks are speaking... the light projected poem sweeps up the foliage of each tree, as the words and letters constantly dissolve and reform as they wash across the varying surfaces of the leaves. The visual effect suggests the memories of a century are materializing for all to see.

The artist will create a digital movie animating a 5 minute poem that he has written for the installation. Two digital projectors, mounted across the street on building roof tops, project the slowly scrolling poem onto the foliage of the two oaks. A repeating loop plays continuously. This was envisioned as a temporary installation.

Finalist proposal for St. Louis Public Art.
Excerpt from Williams' poem,
"I Am an Oak:" 
I Am an Oak
I have lived
one hundred
years
I have seen
sadness
joy
cruelty
and
kindness
I have 
borne witness
to
justice
and
injustice
to
love
and to
hate
I Am an Oak
I give to you
beauty
I give to you
life
I give to you
truth
I Am an Oak
I have lived 
one hundred
years