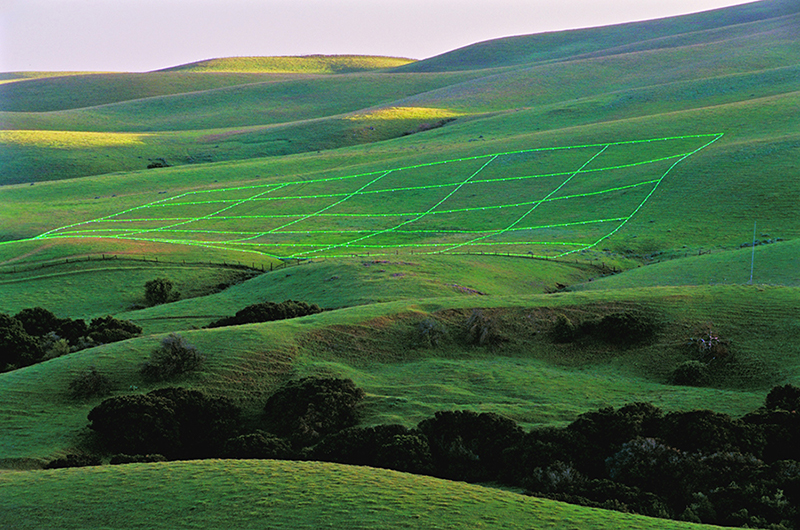 Peter Selz — Curator / MoMA, New York —
"It ('Luminous Earth Grid') emanated a sense of the romantic sublime with its aura of surprise and wonder. It is a very, very beautiful thing… a fusion of nature, technology and art.
"
Andy Warhol, New York —
"Ohhhh...... those are beautiful!"
(from a 1983 interview, in response to Williams' "Five Orange Spheres")
"Kunstforum International," Cologne —
"For the 70th anniversary of the devastating air raids on Dresden by Allied forces, American artist Stuart Williams has created a light installation, 'Breath of Life/Dresden,' on Dresden's famous Trinity Cathedral. By introducing rising and falling waves of light, he has made the Cathedral appear to breathe."
Global Fine Art Awards Nominee 2015 —
("Breath of Life/Dresden")…"an emblematic artwork of timeless and far-reaching importance."
City of Dresden, Germany —
"'Breath of Life/Dresden' 

offered a silent message for peace and reconciliation. (It) was an impressive contribution to a peaceful remembrance of the city's destruction."
"Public Art Review," St. Paul, MN —
"As a trained architect, Williams not only understands light as the medium that shapes form, but he also appreciates buildings at a professional level. Says Williams, 'as both an artist and an architect, I've felt the poetry and living presence of architecture. Buildings stand in silent witness to history unfolding around them.'"
Allan Temko — Pulitzer Prize-winning critic, "San Francisco Chronicle" —
"It ('Luminous Earth Grid') is the most ambitious work of environmental art in the San Francisco Bay Area since Christo's 'Running Fence.' It is a joyful thing."
"Feuilleton Scout," Berlin —
"On the occasion of the 70th anniversary of the (Allied) air raids on Dresden, the city will commemorate its victims in a special way: New York artist, Stuart Williams, will transform the Dresden Cathedral Ss. Trinitatis with life-giving waves of light, making the Cathedral appear to breathe."
"iGNANT," Berlin —
"Our emotional connection to an increasingly technologically dominated life would not be addressed by most artists until years later. This makes the 'Luminous Earth Grid,' by American artist Stuart Williams, all the more remarkable."
"Panorama Mese," Milan —
"A skillfully orchestrated union of the literal with the metaphorical… a triumph of the ephemeral."
"Grazia," Milan —
"When hanging from the palm trees in Los Angeles, Williams' 'Five Orange Spheres' appear as opulent bunches of terribly tempting fruit. When dotting the sandy shore of Cannon Beach, Oregon, they seem to be the mysterious eggs of huge sea turtles."
"Roads Publishing," Dublin, Ireland —
"Luminous Earth Grid" was featured in "Art Installations: A Visual Guide," a monograph billed as "a visual journey and exploration of the most significant and groundbreaking highlights of installation art since the 1960s.