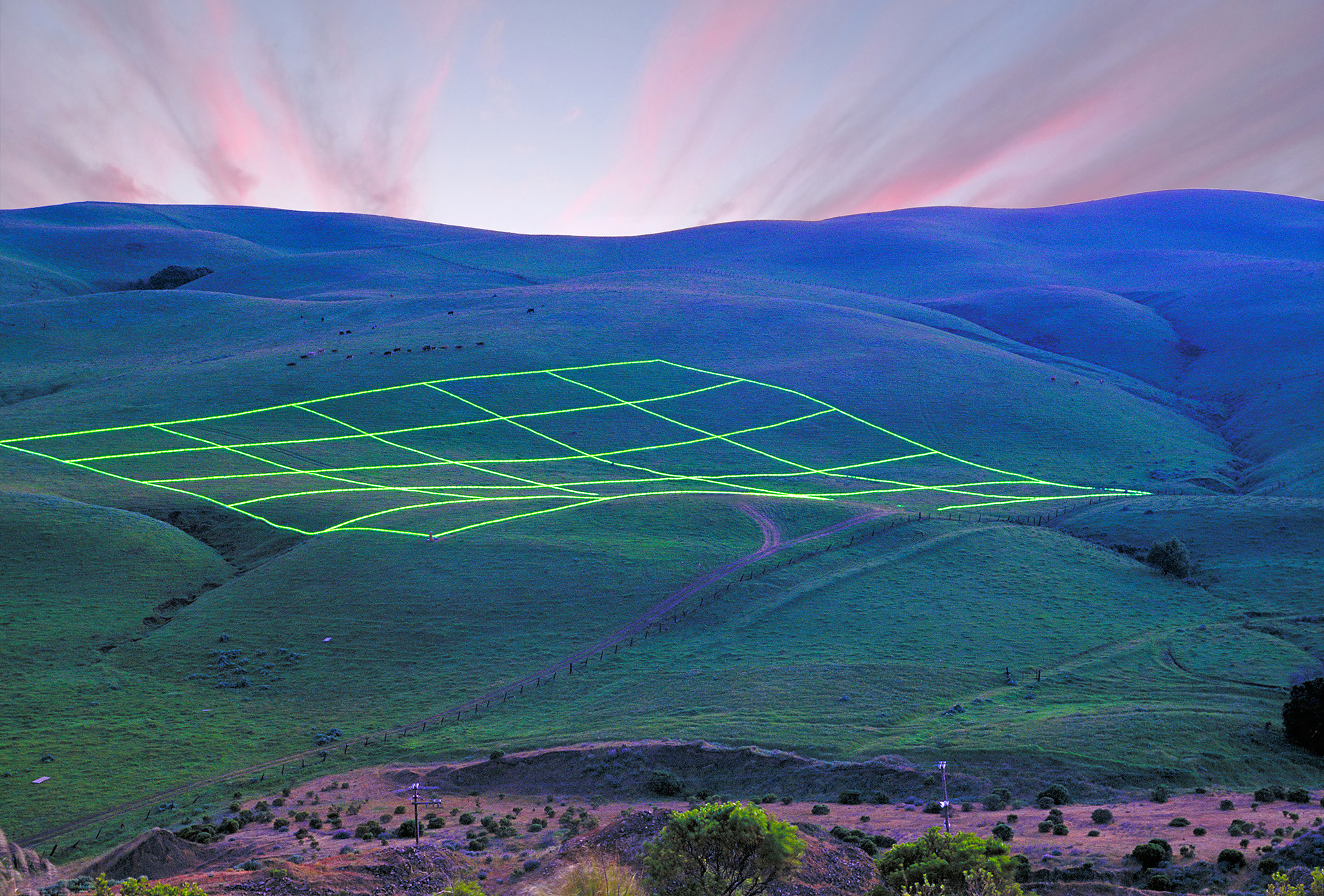 Luminous Earth Grid
© Stuart Williams
 1993. All rights reserved.


Solano County, California
(8 football fields in area • 12 miles of electrical cable • 200 installers)
"It is a very, very beautiful thing… a fusion of nature, technology and art."
— Peter Selz, curator, MoMA New York
"It is unquestionably the most ambitious work of environmental art in the San Francisco Bay Area since
Christo's

'Running Fence
.' "  
— Allan Temko, Pulitzer Prize-winner, San Francisco Chronicle
Electrified Grid
: Williams created a vast grid of nearly 2000 energy-efficient lamps sweeping over an expanse of 8 football fields on an active cattle ranch 50 miles north of San Francisco. Said the artist,
"I see the project as a poetic statement on the potential harmony between technology and nature."
Over a five year period, Williams launched a rigorous fund raising campaign throughout Northern California, and raised $500,000 (cash and in-kind contributions) to realize the massive project. It was widely acclaimed by critics around the globe and drew tens of thousands of visitors.
Cosponsored by:
 New York Foundation for the Arts & Intersection for the Arts, San Francisco
Major Funders & Contributors: 
LEF Foundation, St. Helena, CA; Rene and Veronica Di Rosa Foundation, Napa, CA; Sylvania; Pacific Gas & Electric; Express Lighting Supply; CC Electric; Calistoga Mineral Water; Anheuser Busch;
The Cockayne Fund, New York City & Louisville, Kentucky.
• 
READ an interview with Williams by a Berlin art blog
 (in English)     
•
"Art in America" New York

•
"Abitare" Magazine, Milan
• ALL PHOTOS

 © Craig Collins unless otherwise noted •
Click on any photo for larger view.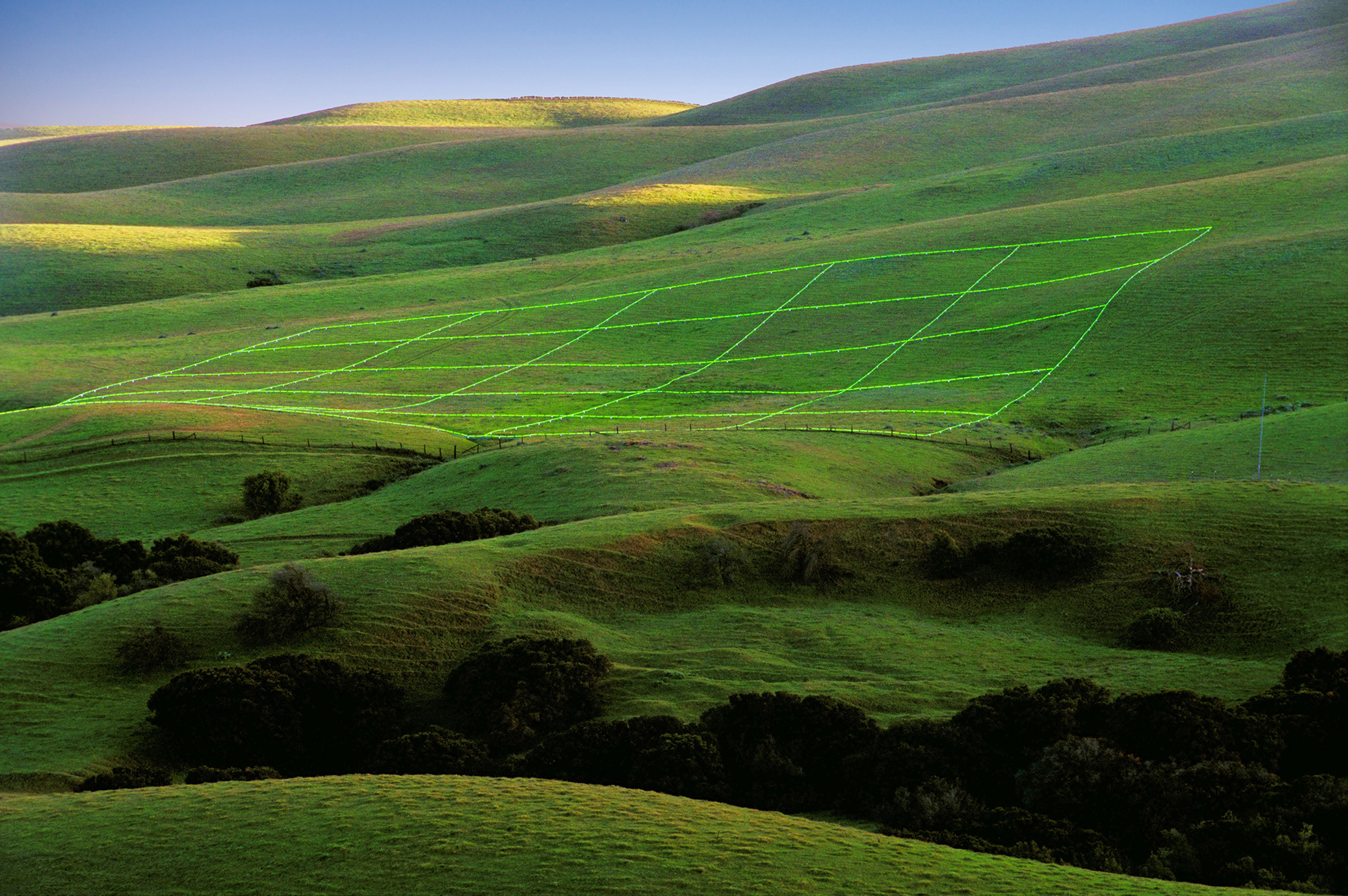 "It emanated a sense of the romantic sublime with its aura of surprise and wonder."
— Peter Selz, MoMA New York


Williams drove 1200 miles over two years in search of an ideal site, and spent years more seeking site permission. This site that ultimately became the setting for the project not only captured the iconic beauty of Northern California's rolling hills, but was also dramatically visible from a major freeway linking San Francisco and the state capitol, Sacramento. It allowed the installation to be seen by multitudes, ​​​​​​​
as 250,000 motorists drove 
by every day.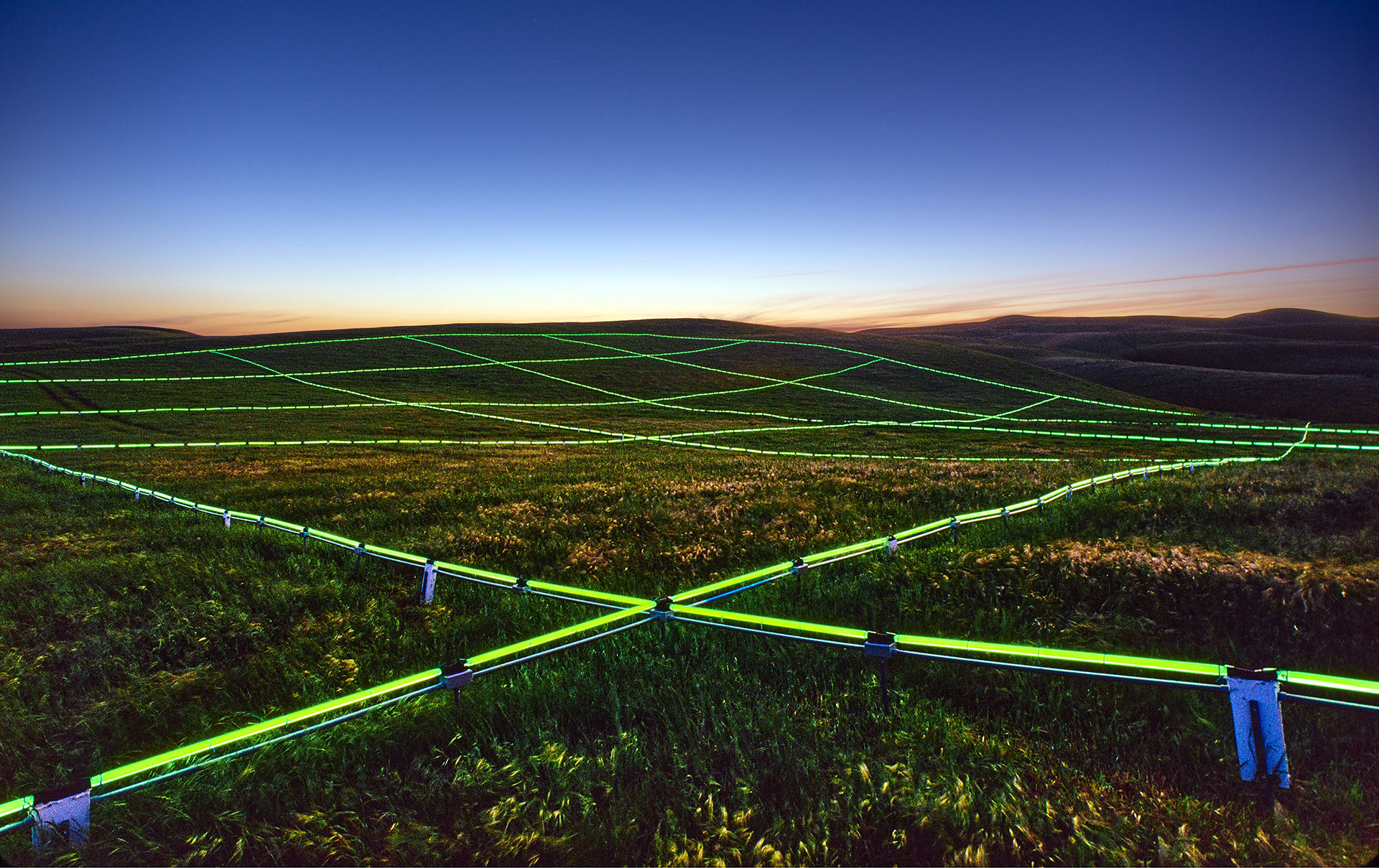 Said Williams,

"The glowing green grid can be seen as an icon of computer imaging technology, which in this 'real life,' incarnation, gently melds with the flowing shape of a lovely landscape... a dream-like vision of symbiotic unity."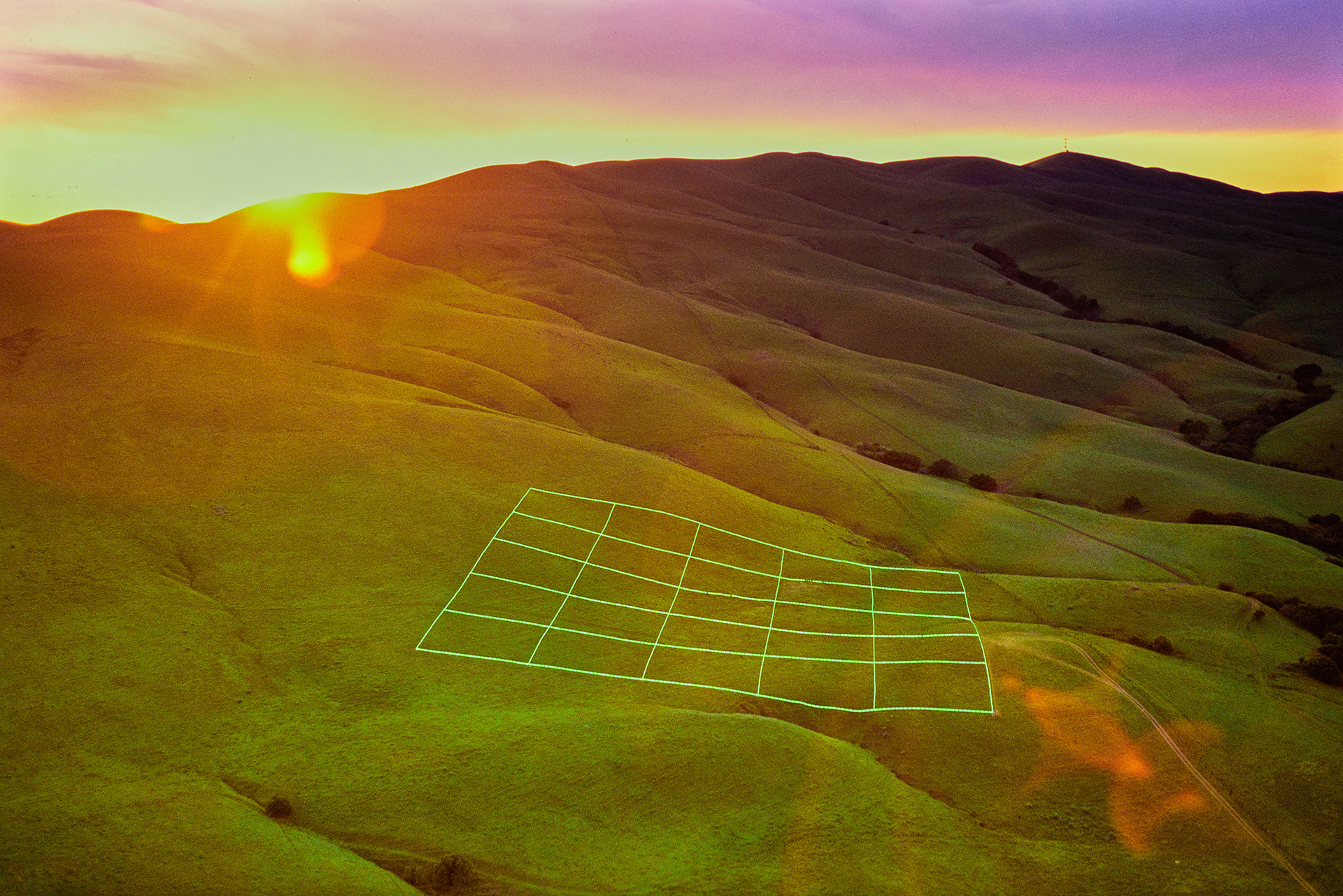 "Our emotional connection to an increasingly technologically dominated life would not be addressed by most artists until years later. This makes the
Luminous Earth Grid, 
by American artist Stuart Williams, all the more remarkable."
— iGNANT, Berlin
When people first see photos of
Luminous Earth Grid
— like the one above in which there is no clear scale reference — they almost always assume it's an image created in Photoshop. They're often a bit shocked once they realize it's simply a photograph of an actual installation.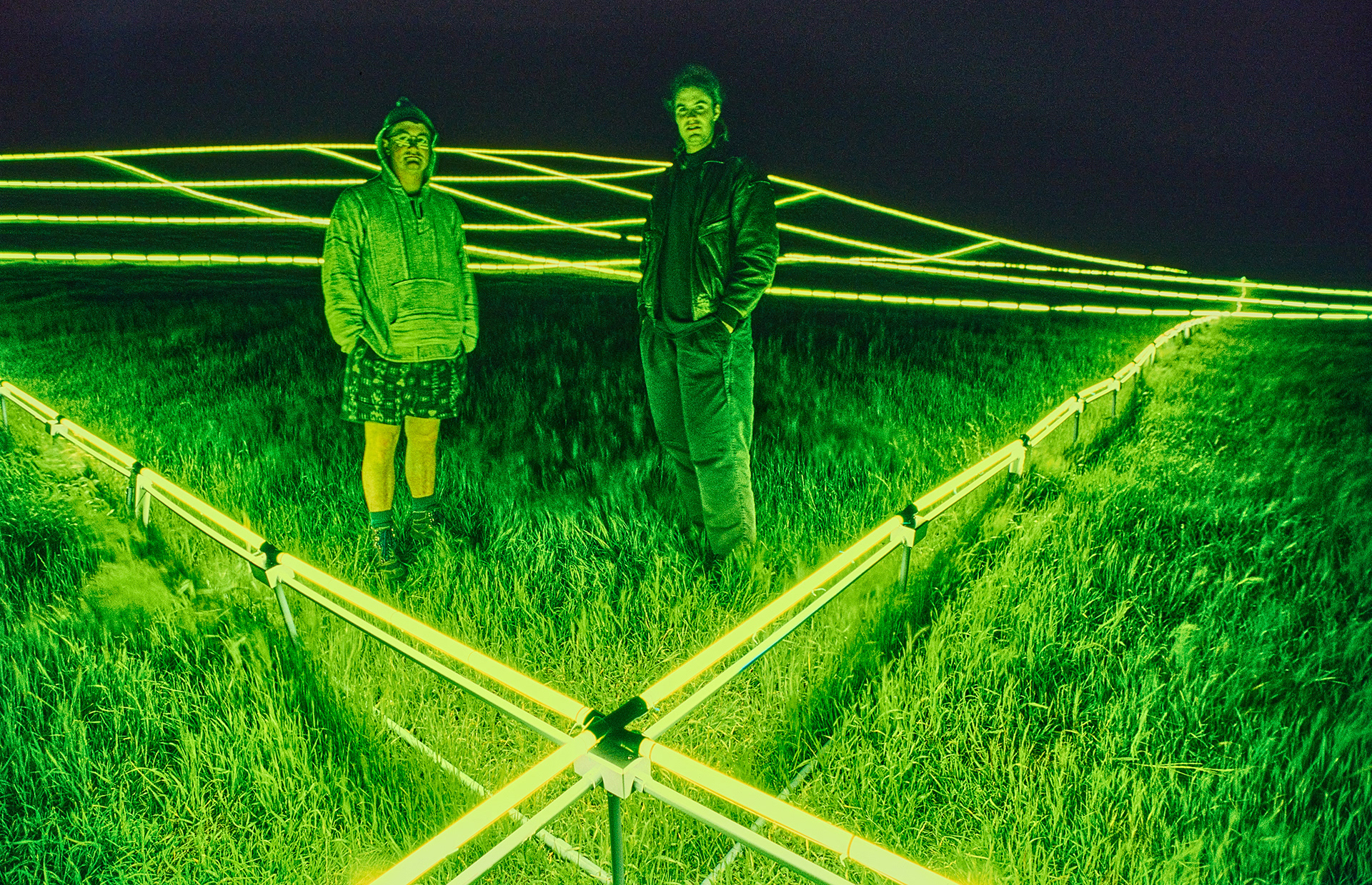 Two student volunteers from the University of California, Davis. 
An installation crew of more than 200 individuals helped fabricate and install the project.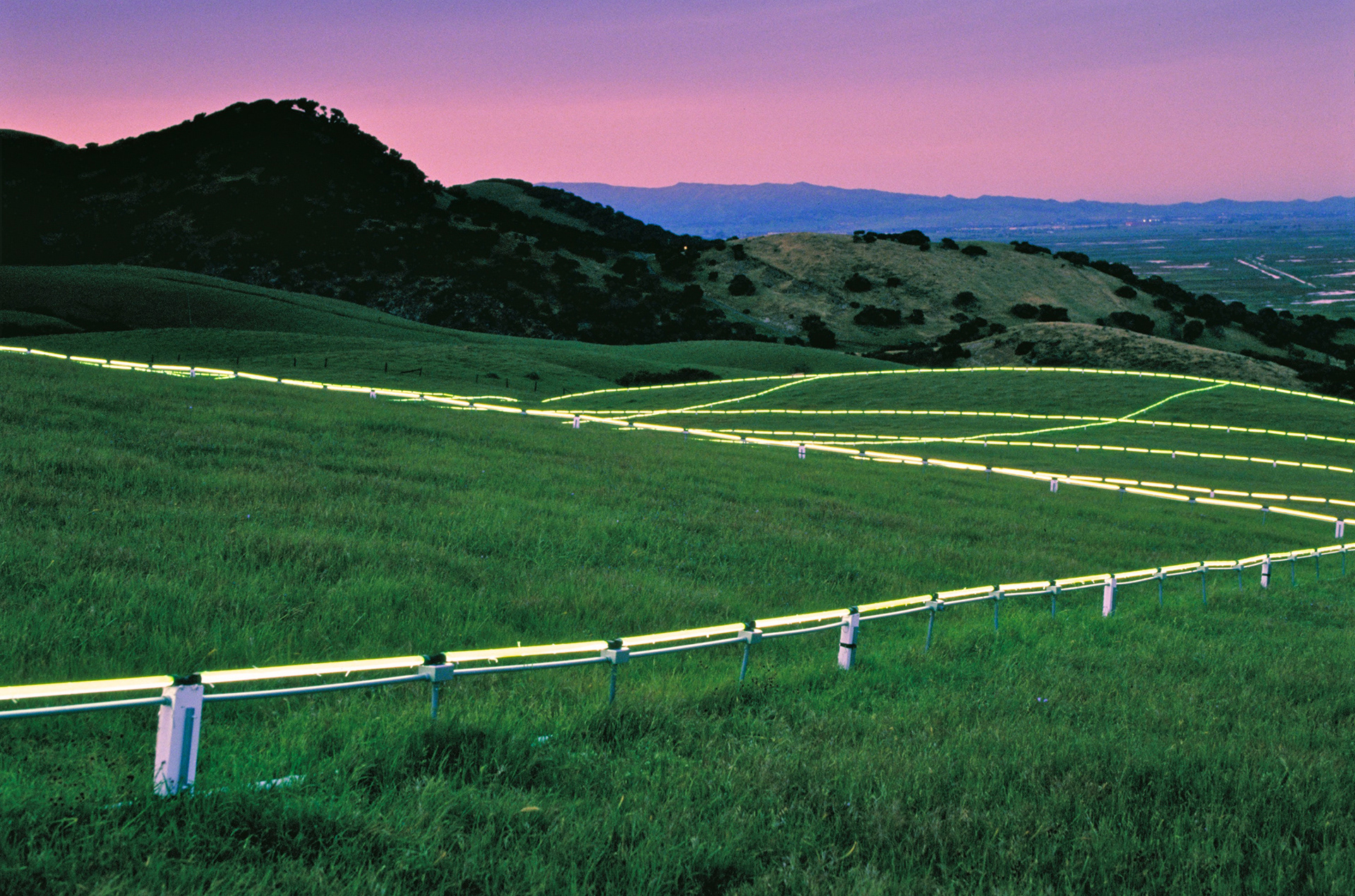 Detail photo at twilight.
Because of the project's pristine rural location, with no nearby commercial development or distracting urban light pollution, the Grid seemed to float in a black void as full darkness fell. Photo © Skip Durbin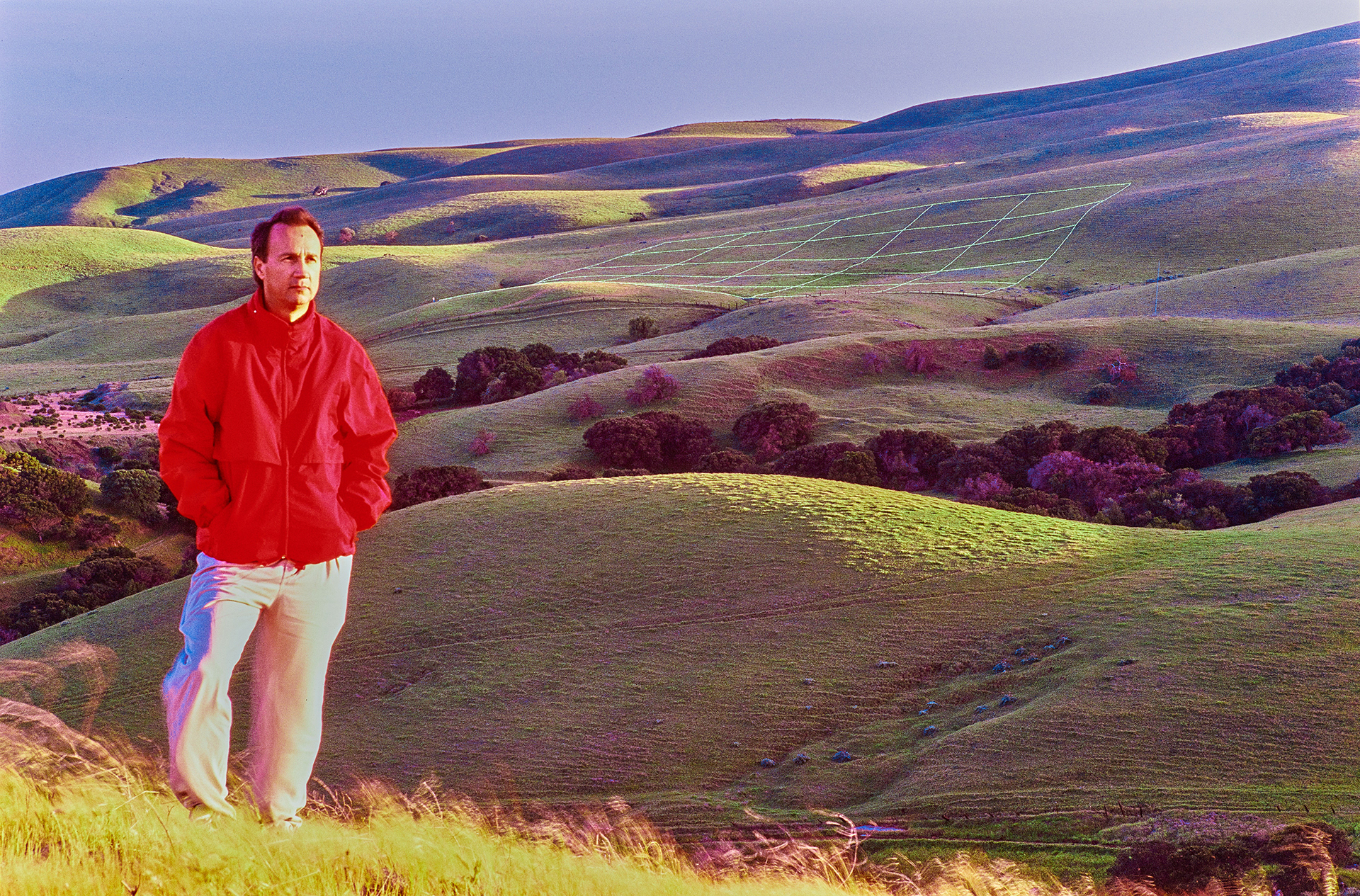 Here you can get a sense of the full sweep and fluid contours of this quintessential Northern California landscape. During daylight hours the Grid had a subtle presence.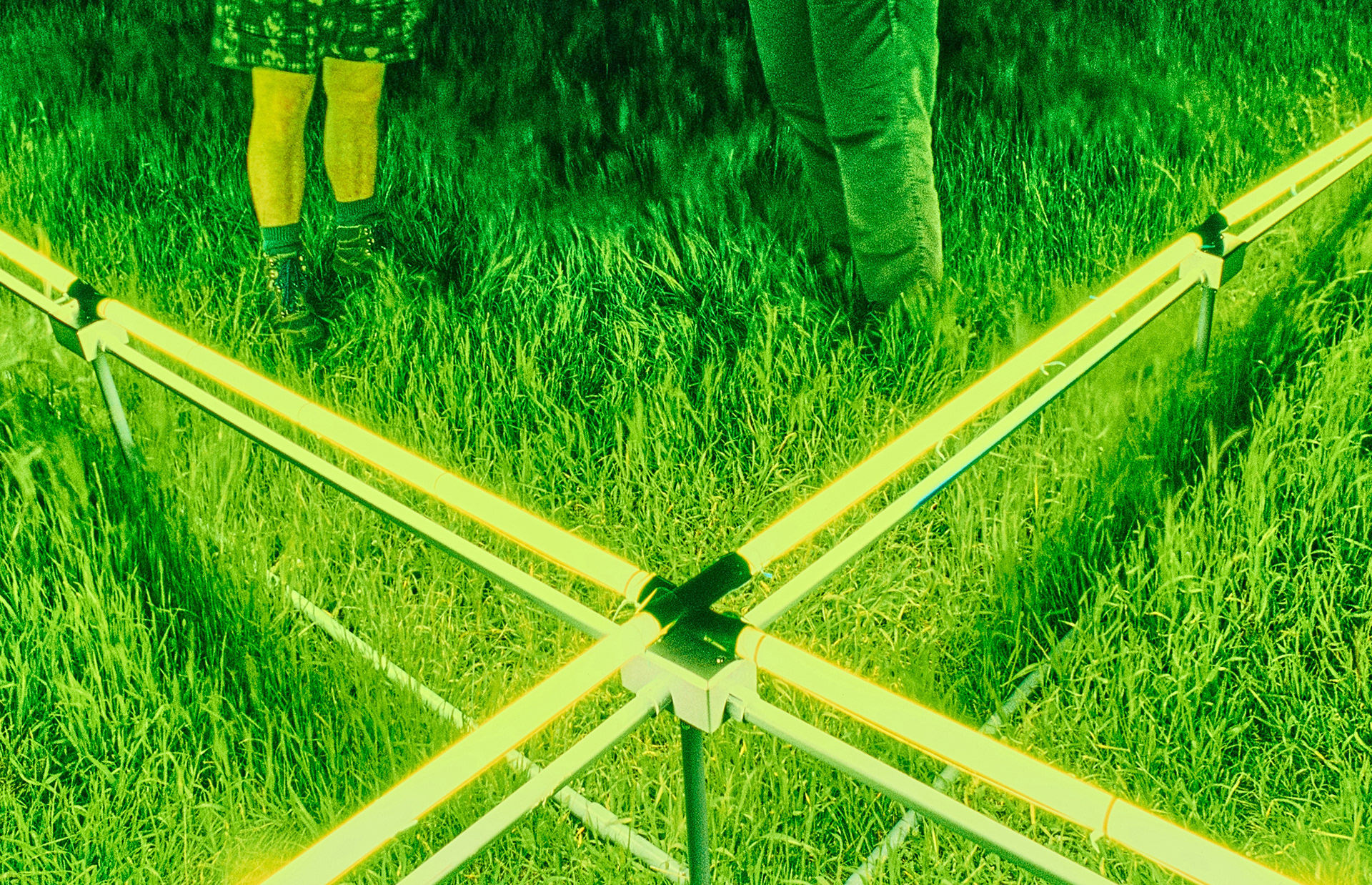 This close up of the 4 foot energy-efficient T8 fluorescent lamps shows how they were joined end on end within a protective and flexible section of rubber washing machine hose. Paralleling the lamps, and running just under them, you can see lines of PVC pipe which carried more than 12 miles of electrical wiring.
A clear sense of scale is provided by this herd of cattle grazing just above the Grid.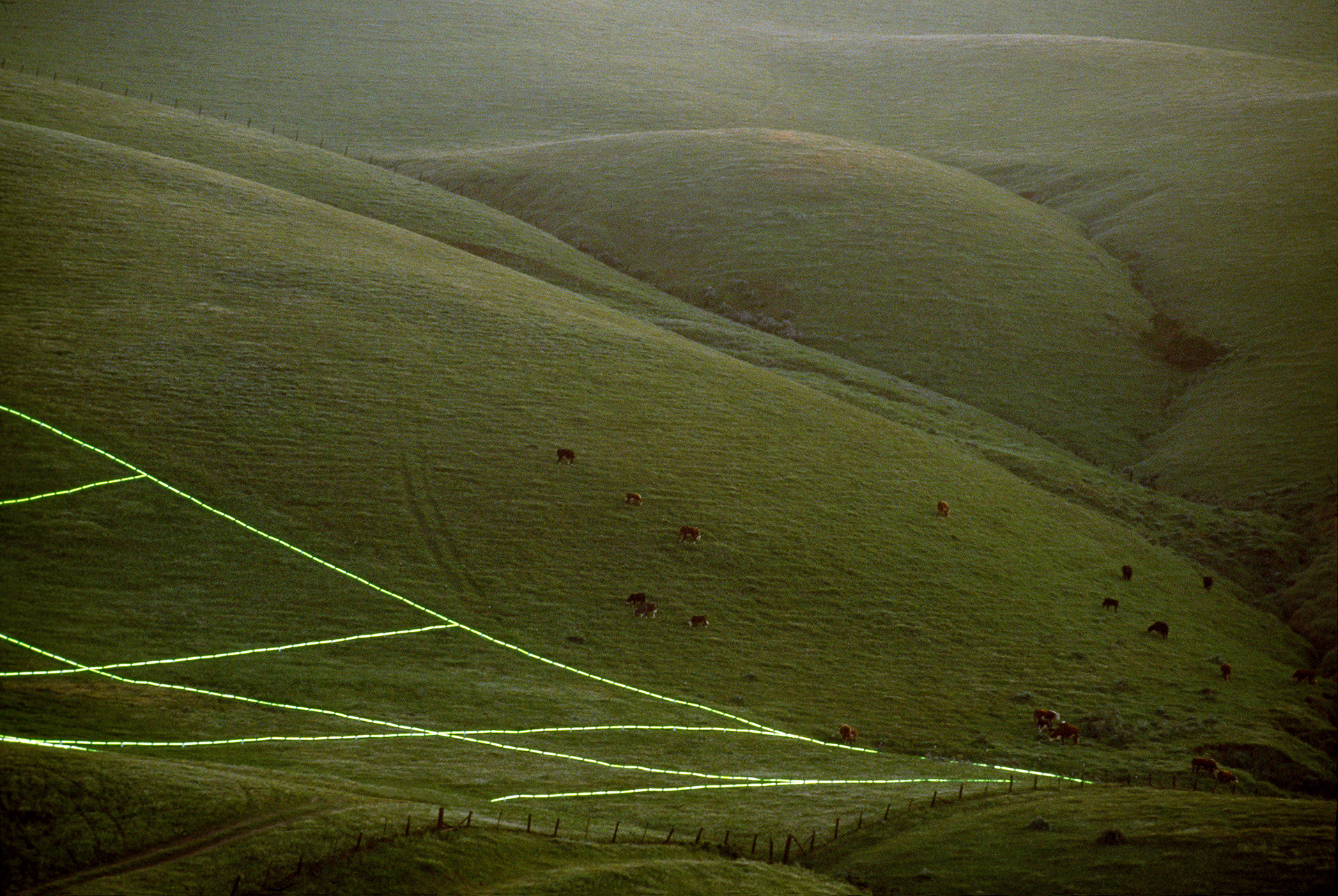 Virtually invisible in this photo, a solar-powered electric fence surrounded the 2400 foot perimeter of the Grid to keep cattle from grazing within the array of lamps, which could have led to their injury and/or damage to the installation. The very visible fence along the bottom of this photo marks the property line of the ranch.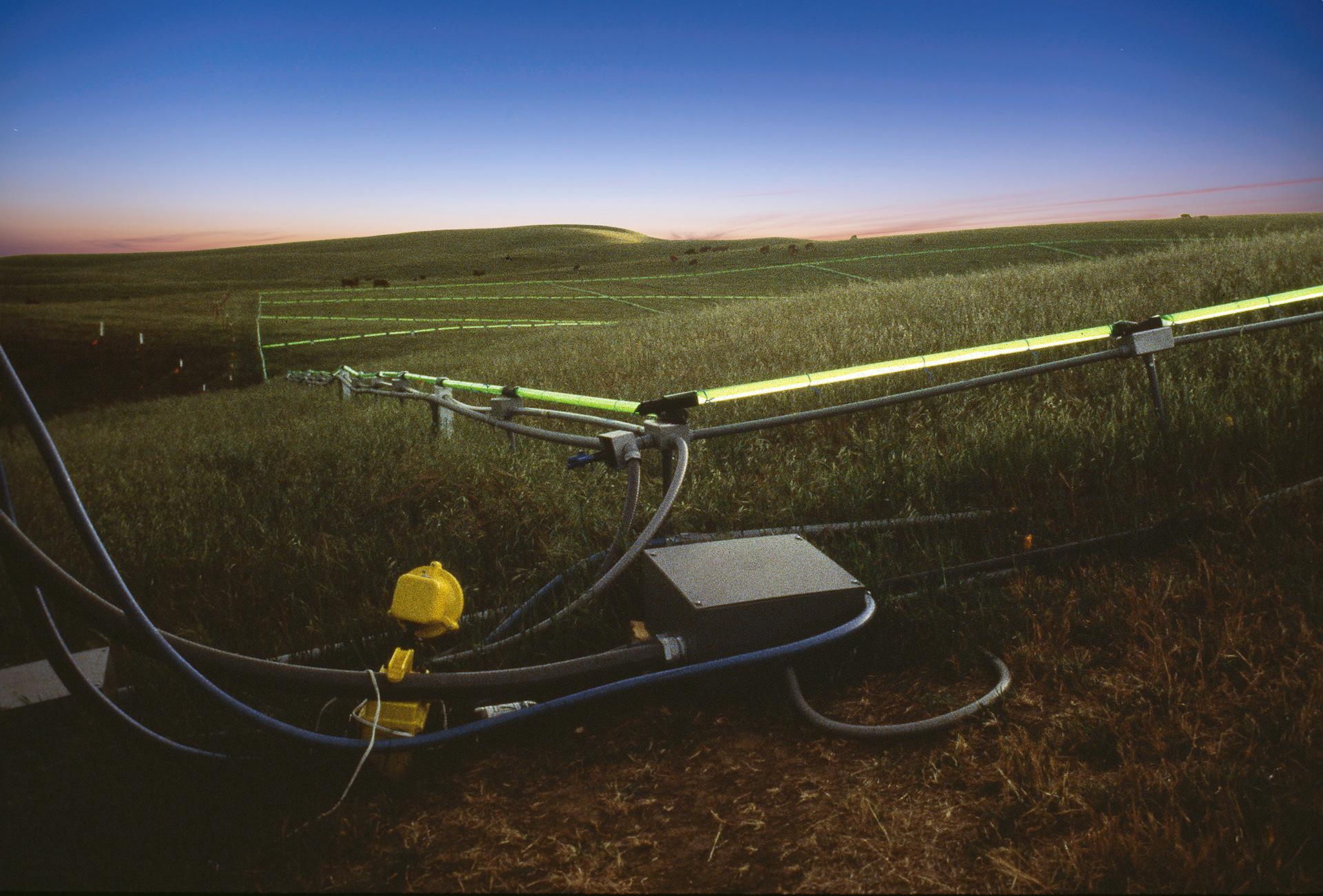 A half mile long specialized cable, weighing 6 tons, connected to the corner of the Grid and snaked down the hillside to tie into existing power lines. Known as "shore power cable," it was loaned to the project by the U.S. Naval Shipyards in Vallejo, CA. Solid copper, and the thickness of a man's forearm, it was valued at $50,000. Its normal use is to link submarines to power when they're in port for repair. Photo © Leo Nash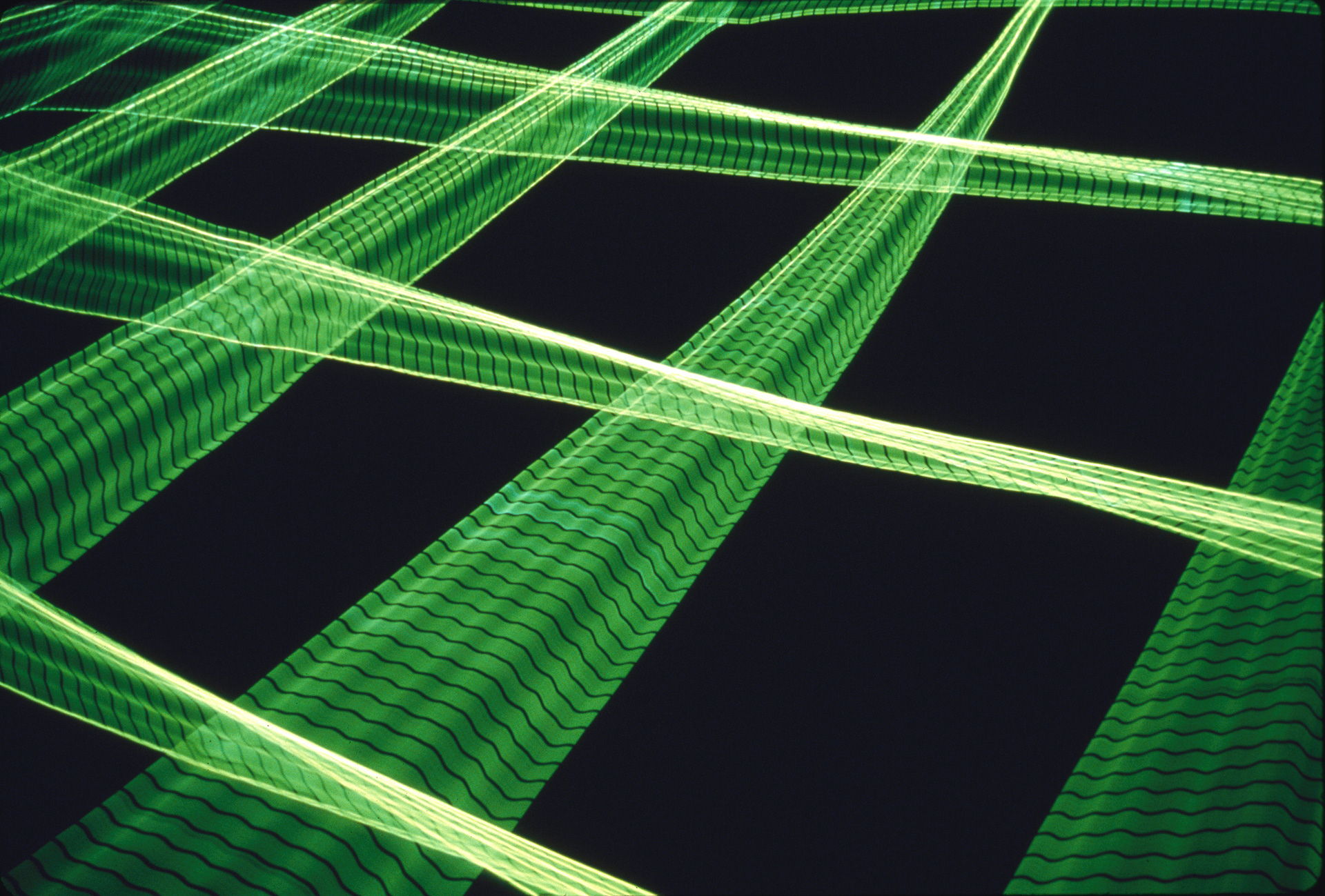 Looking so much like a computer-generated image, this is in fact an aerial photograph of
Luminous Earth Grid
… totally
analog... a time-lapse photo captured on film while the photographer was hanging out the open cockpit of a helicopter as it flew a couple hundred feet overhead. Given that
Luminous Earth Grid
was envisioned, in part, as a concept alluding back to the green "wire frame" often employed in computer-imaging technology, this photo takes on some unique interest. There is something ironic about this shift and blur between analog and digital, and it is in many ways at the root of Williams' concept. Photo © Skip Durbin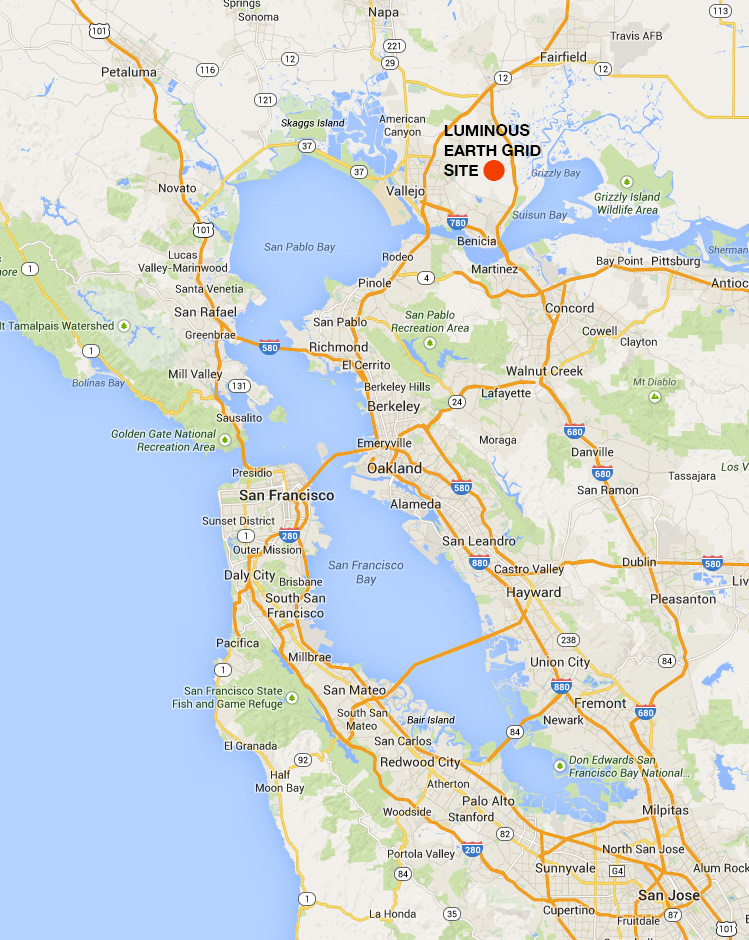 Luminous Earth Grid 
was located approximately 50 miles northeast of San Francisco. (See map above.)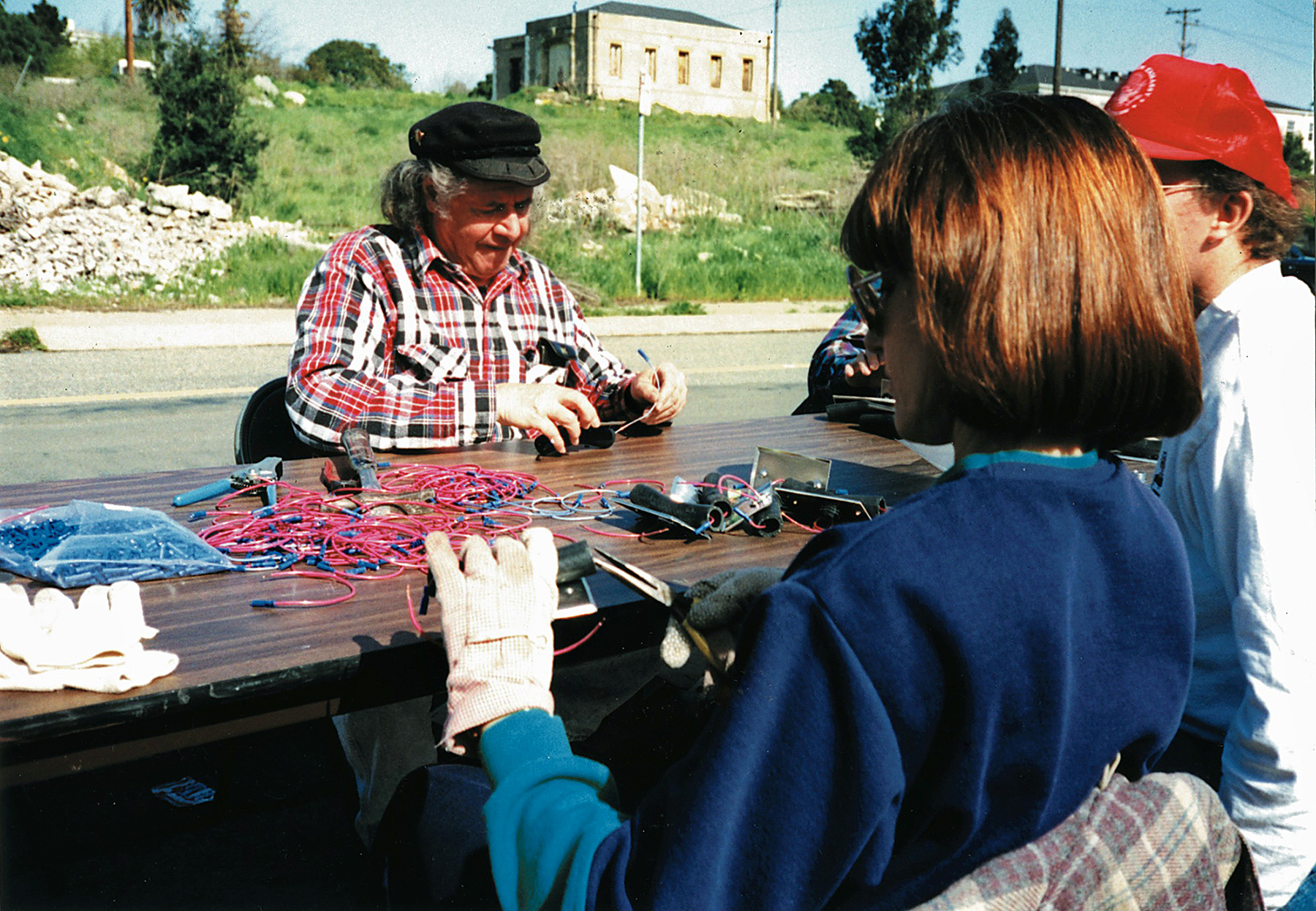 1,700 waterproof, flexible electrical connectors are prepared, which linked the massive array of 1,680 4 ft., energy-efficient fluorescent lamps end on end. The connectors provided protection from rain, and also allowed the linear array of lamps to bend and incrementally match the rolling contours of the terrain. Photo © Stuart Williams.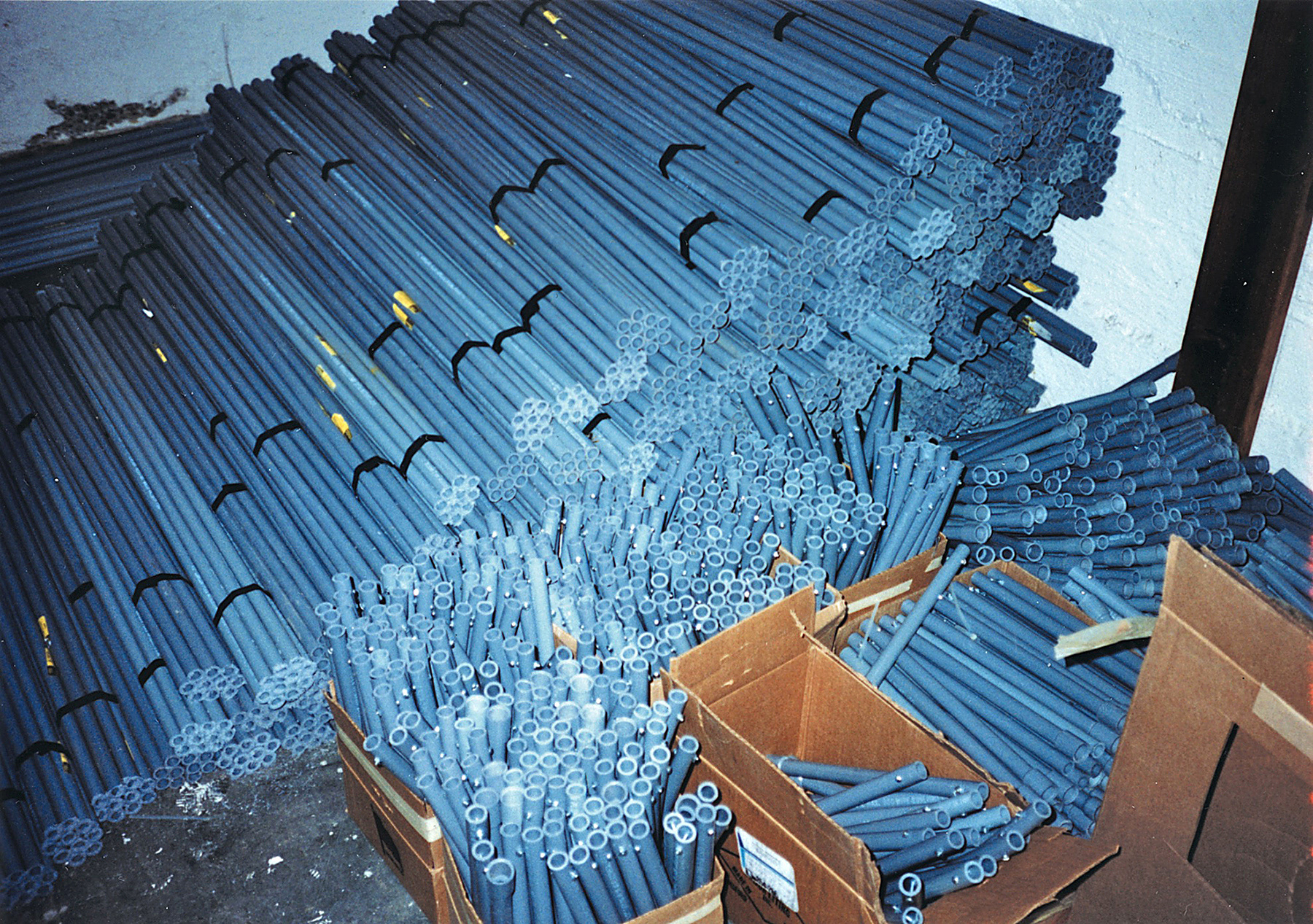 3 miles of PVC conduit, cut into 4 foot lengths, and awaiting transport to the project site. Photo © Stuart Williams.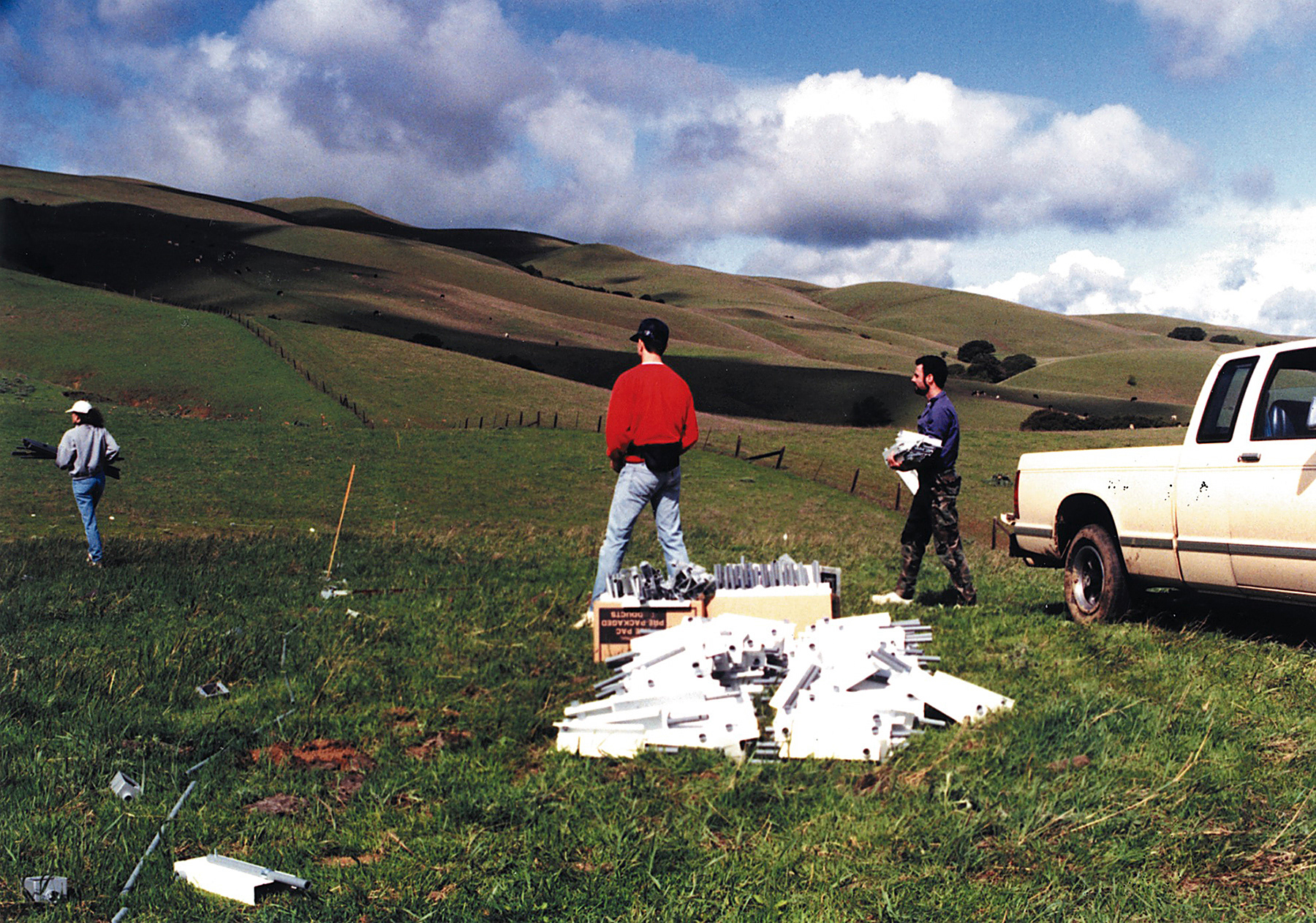 Tens of thousands of pounds of steel hardware, electrical cable, ballasts and energy-efficient lamps had to be trucked to the site. Many dozens of truck loads later, the lengthy on-site installation work commenced. On-site
installation took one month. Photo © Stuart Williams.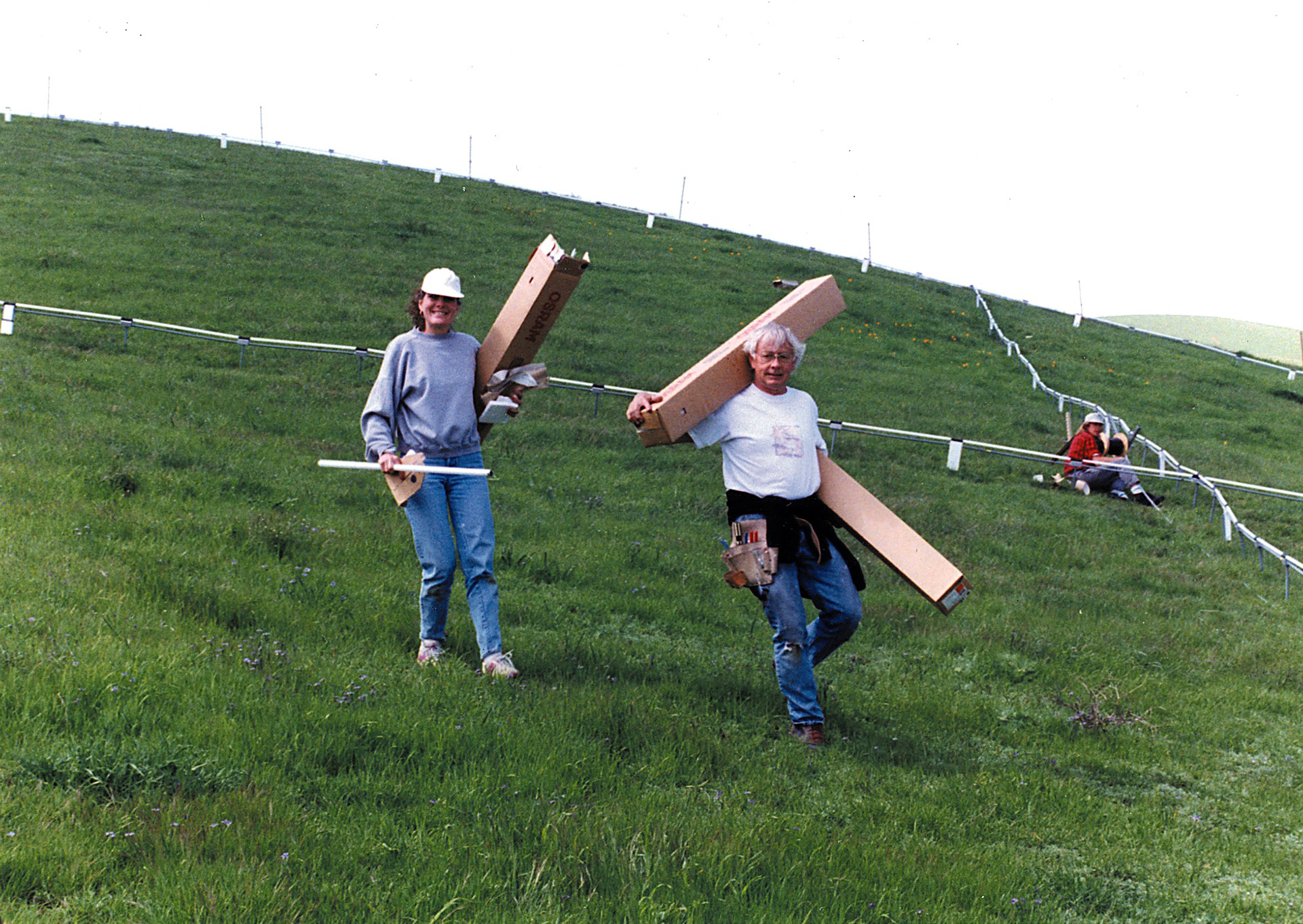 Over two months of off-site pre-assembly of tens of thousands of components and on-site installation, nearly 200 individuals from all around the San Franciso Bay Area helped complete this project. Photo © Stuart Williams.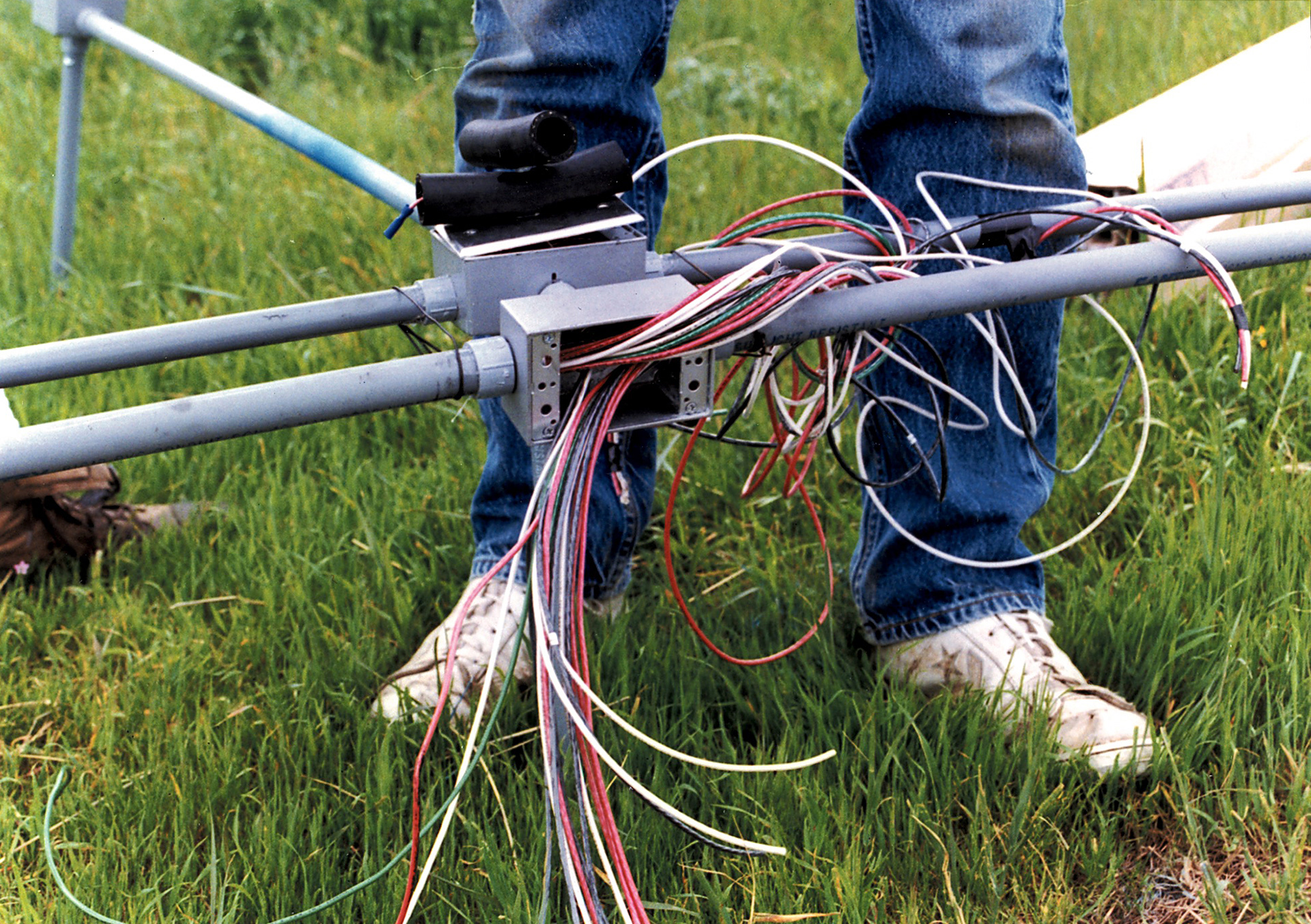 12 miles of electrical wiring were required to facilitate the installation. In addition, a 6-ton extension cable was strung down the mountainside and hooked into existing power lines along the freeway to bring power to the grid. That solid copper cable — the diameter of a man's forearm — was valued at $50,000, and was loaned to the project by the
U.S. Naval Shipyards in Vallejo, California. Photo © Stuart Williams.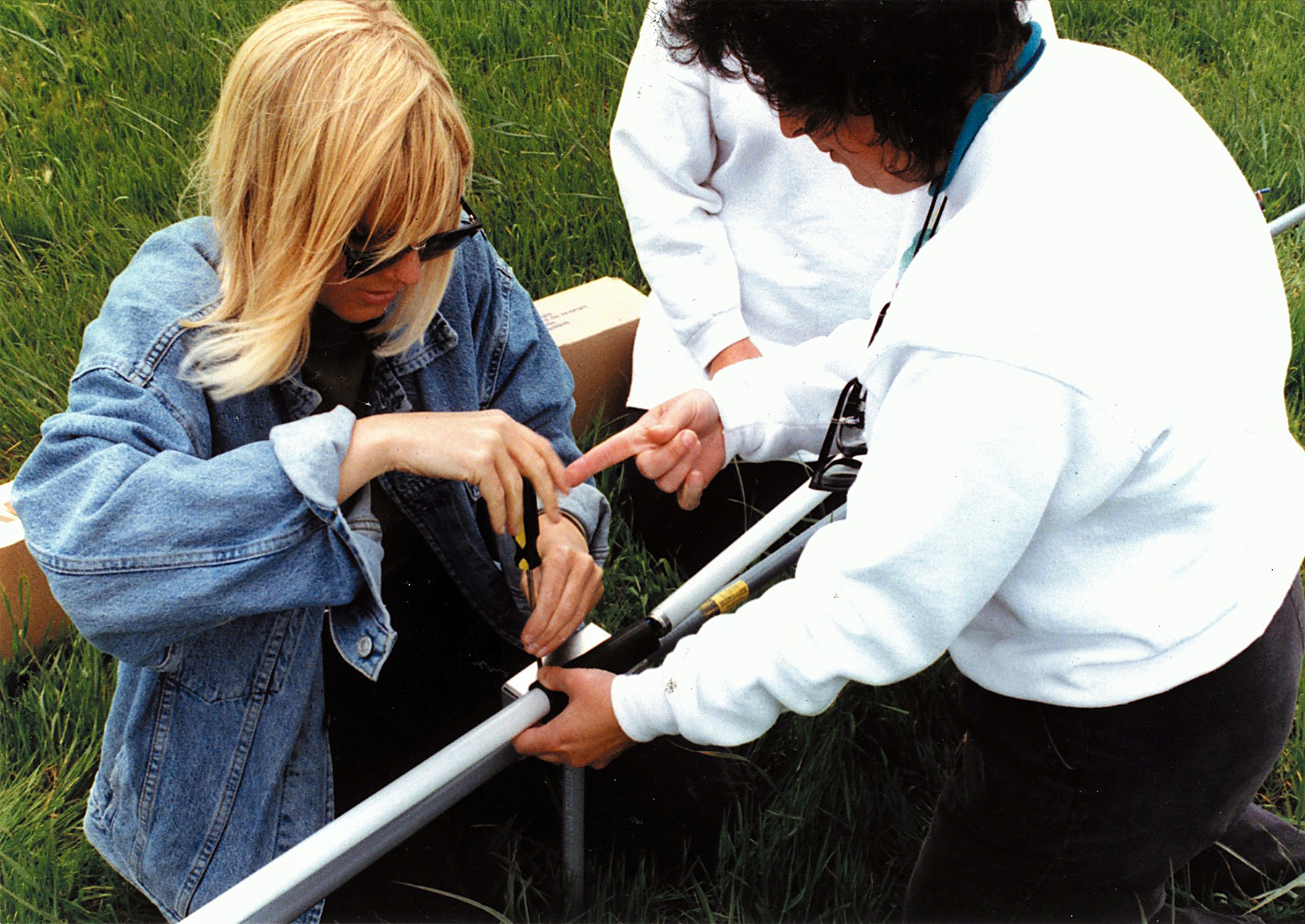 Three dedicated members of the installation crew. 20,000 person hours of labor were required for off-site
pre-fabrication, on-site installation, and de-installation. All materials were reclaimed or recycled. 
Photo © Stuart Williams.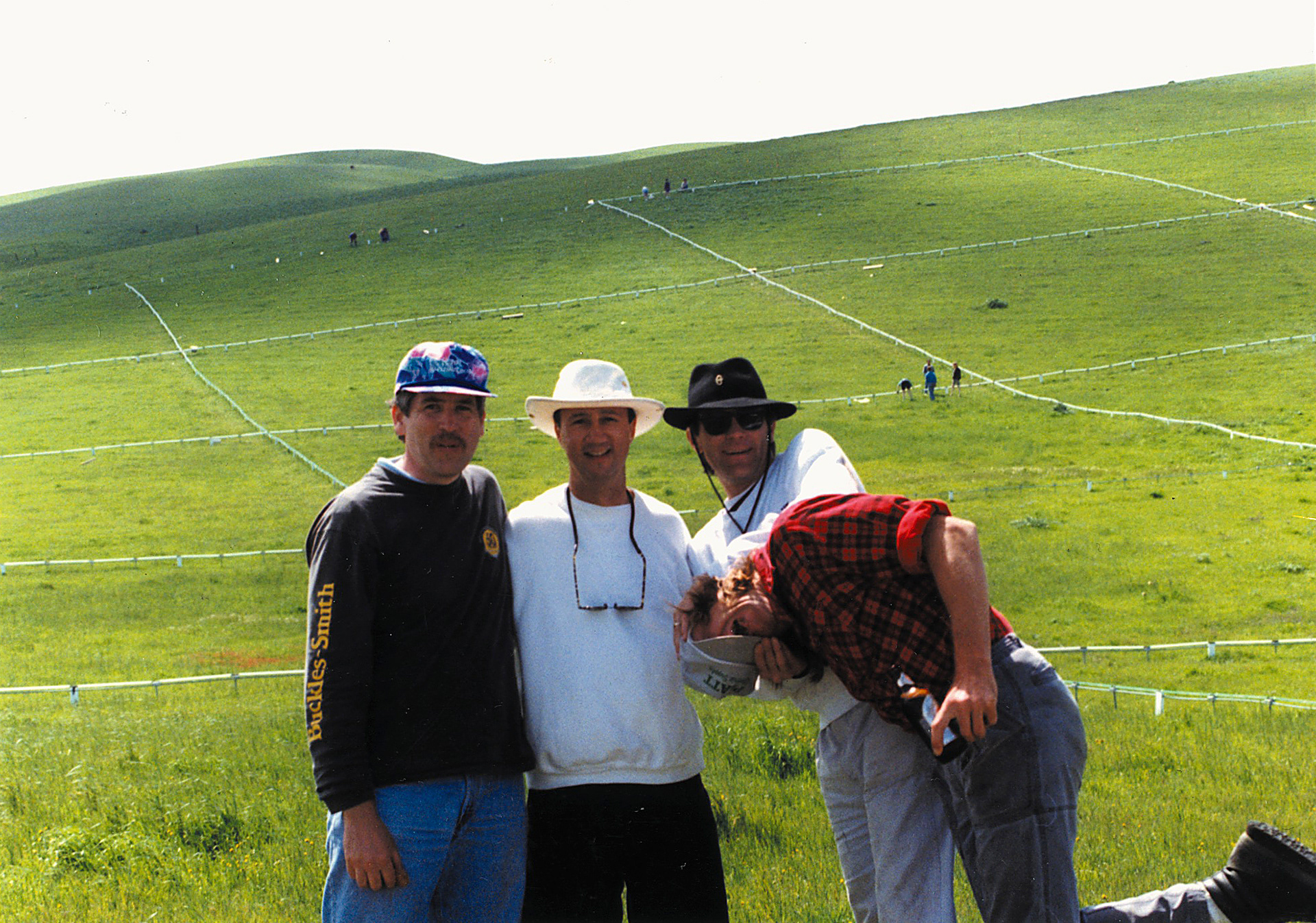 As the grid neared completion, the three lead electricians and the artist gathered for a photo. 
Photo © Nancy Bronstein.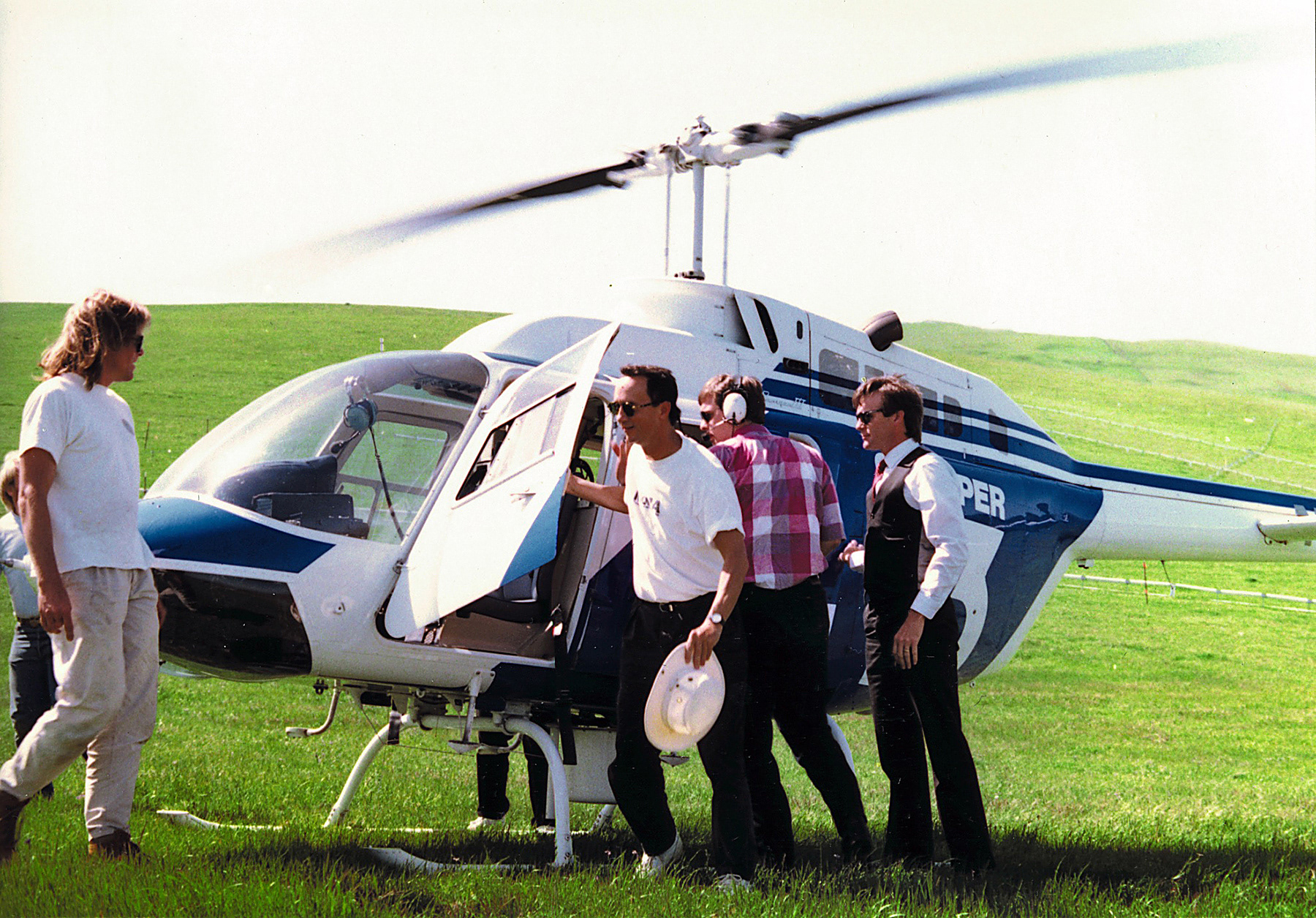 A San Francisco television news crew visits the site to interview the artist, and takes him aloft for a bird's-eye view of the project site, just before the opening day. Photo © Stan Golovich.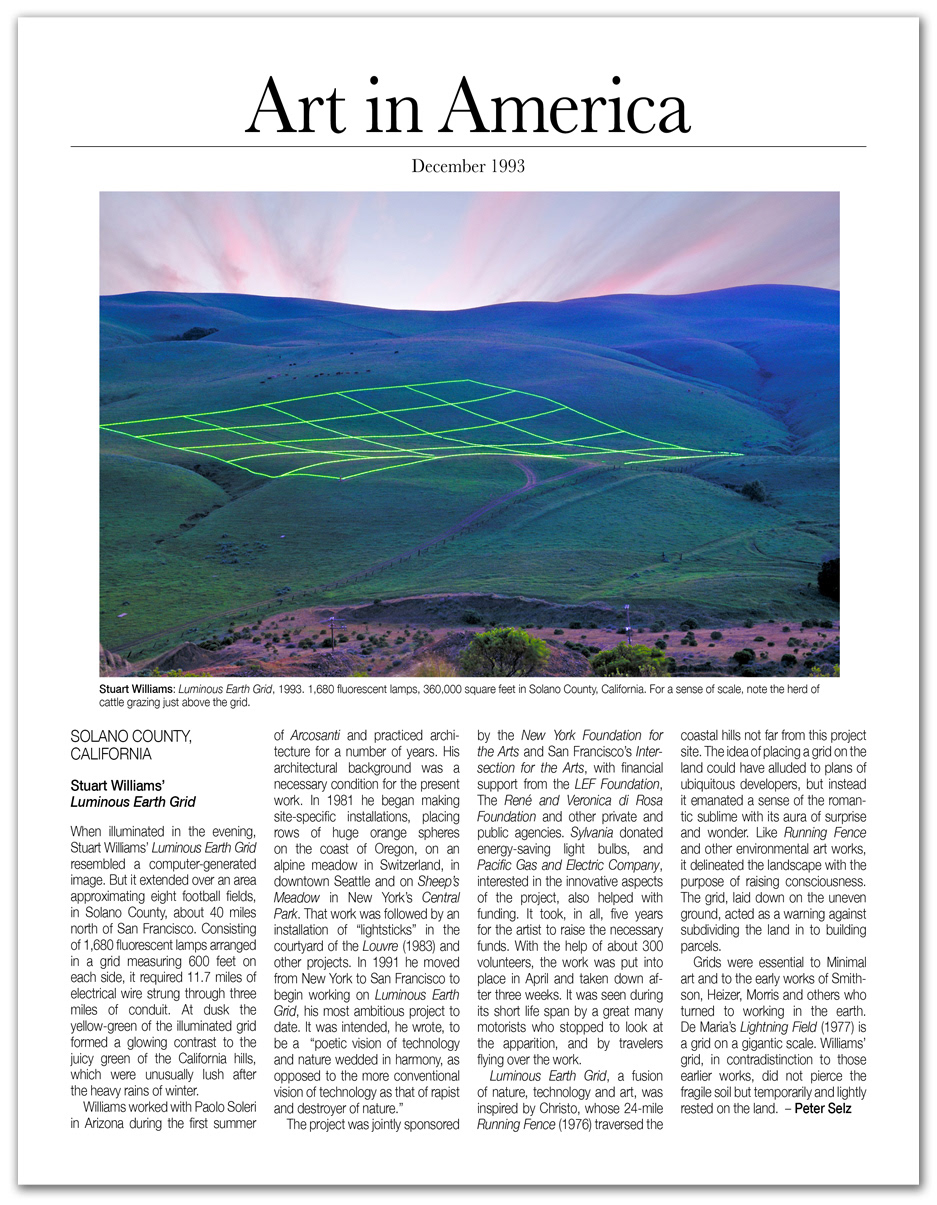 "Art in America" Review (above)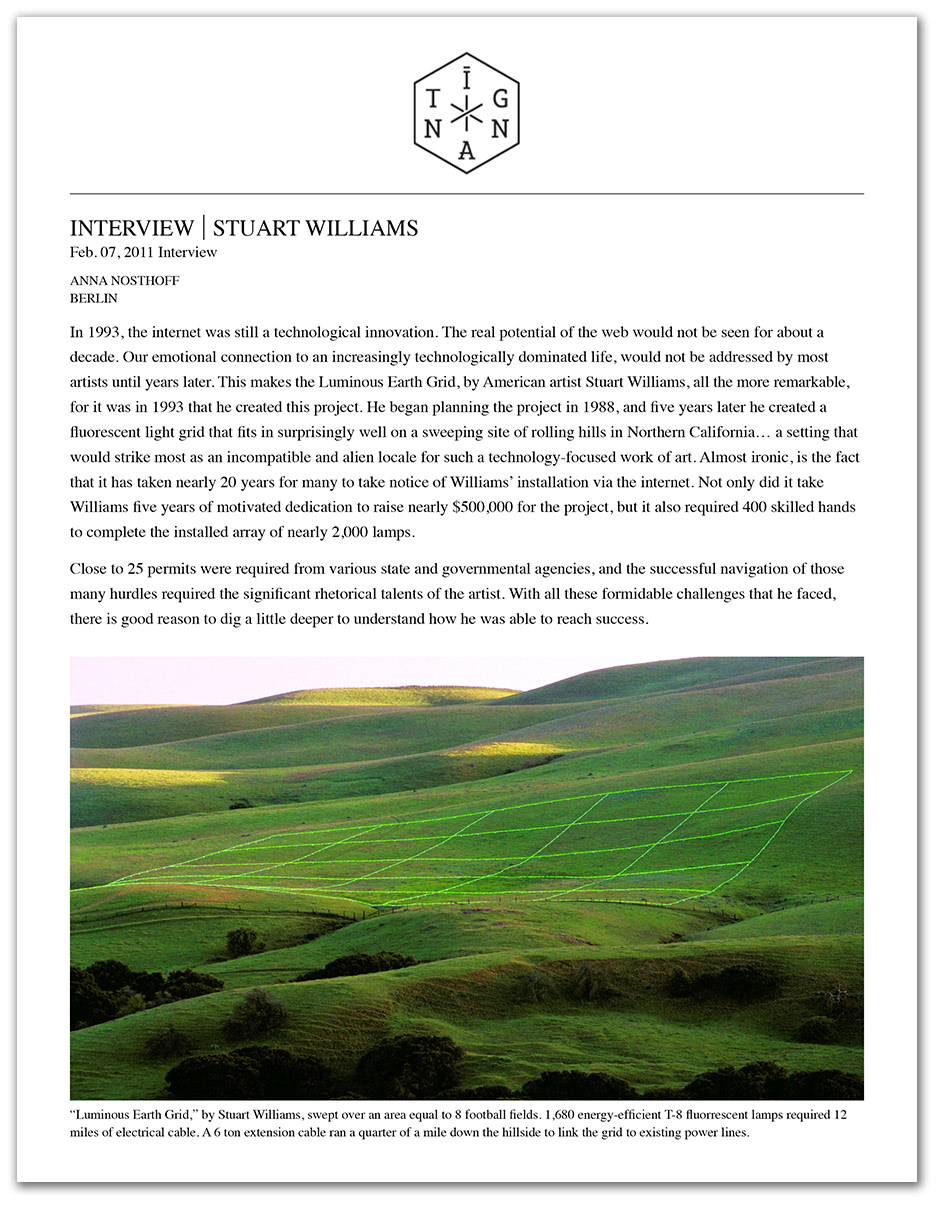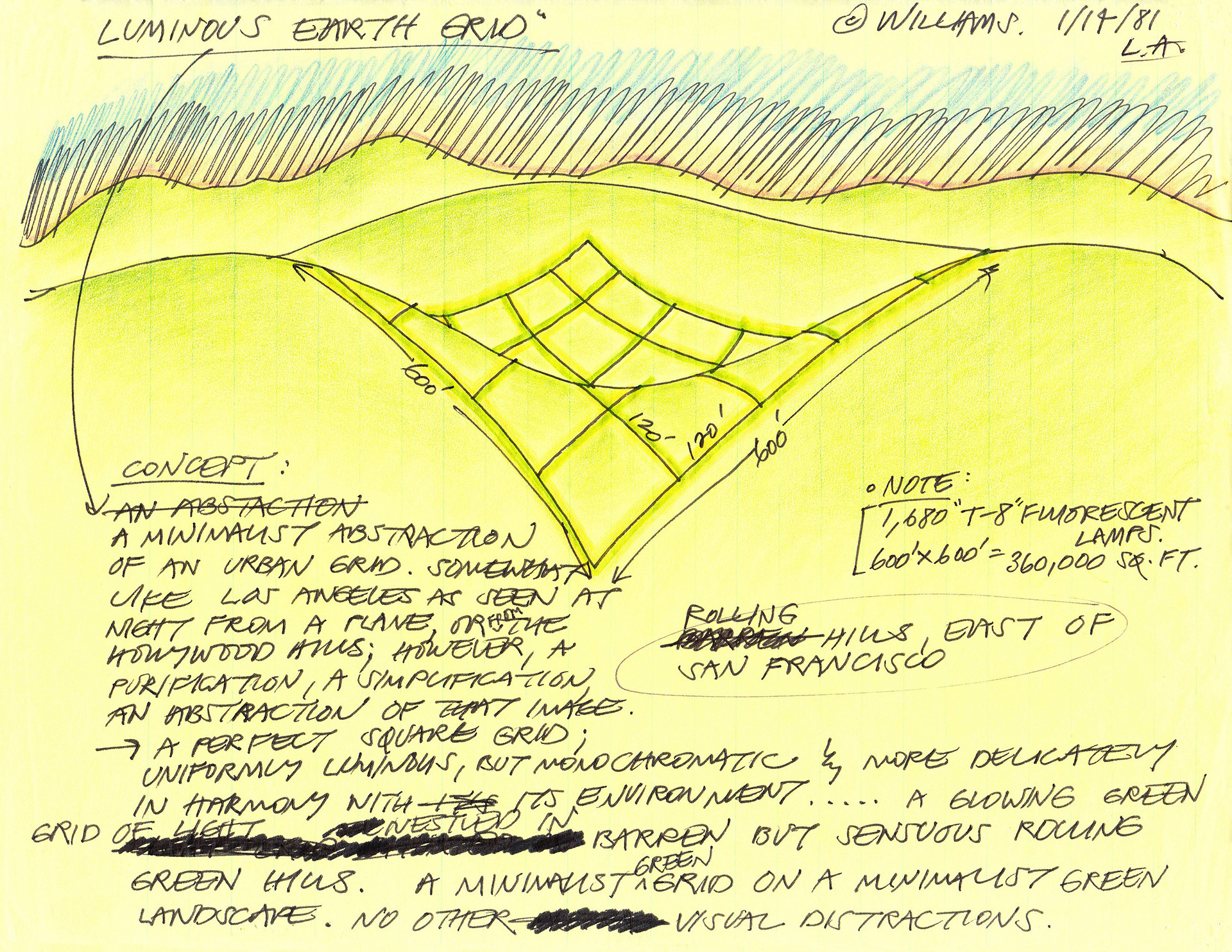 Artist's initial concept sketch (#1), done in Los Angeles in 1981.
© Stuart Williams 1981. All rights reserved.​​​​​​​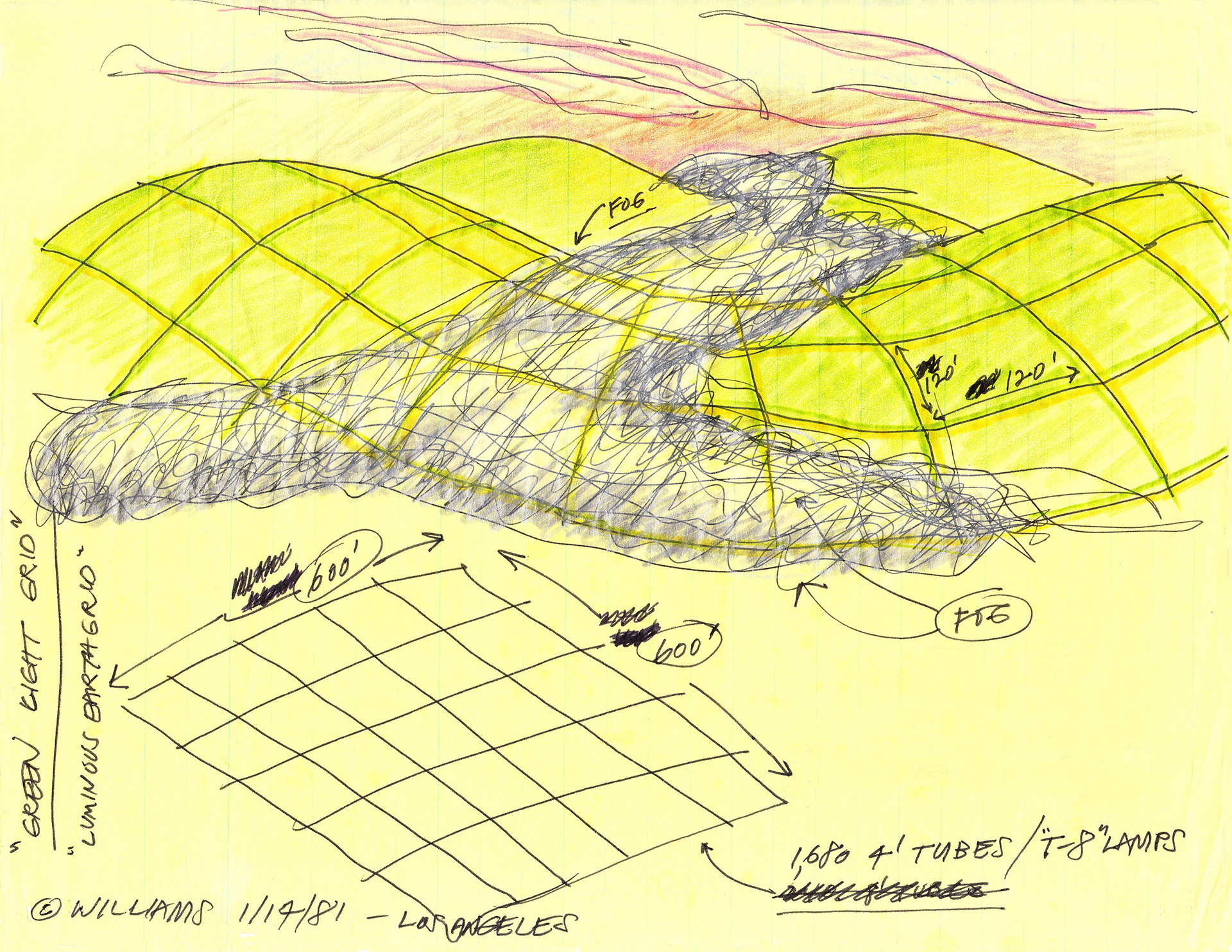 Artist's initial concept sketch (#2), done in Los Angeles in 1981.
© Stuart Williams 1981. All rights reserved.